We recently
announced our new experimental tool
that allows you to turn text queries into 3D models that can be used immediately in your AR projects. Sounds fantastic, doesn't it? Well, it's truly magical!
Today, we want to take a closer look at how to find
Generative AI
on the
DEVAR platform (MyWebAR),
provide you with some tips on how to work with it, and inspire your creativity.
Are you ready to dive in and get creative?
Where to find Generative AI
To unleash the power of Text-to-3D, simply log in or register on the DEVAR platform (MyWebAR), access your dashboard, and create a new project or use an existing one.

Next, navigate to the Content section, select the Models 3D, and click on the plus sign.
Now comes the exciting part!

In the bottom right corner, you'll see the magical button labeled 'Generate with AI'. Go ahead and click it. Voila! You've discovered our Generative AI feature. Now let's create something extraordinary!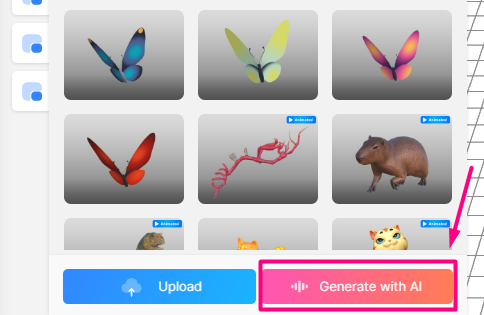 Working with Generative AI
We've designed the interface of our tool to be incredibly easy to use. Seriously, it's super simple. You'll find just one button for generate 3D model, a text box for keywords, and a texture mode switch. It's as simple as that!
Type your query into the keywords box. Then, you can choose to display realistic textures or not by toggling the texture mode switch. Finally, press the Generate button.

Now, all you have to do is sit back and let the magic happen. Your 3D model will be created in no time!
Using the cursor, you can rotate, zoom in, and zoom out the generated 3D model. If you are satisfied with the result, simply click 'Use This 3D Model' to place the model in your AR scene. If you want to see other options, click 'Generate Again'.
Use Keywords Effectively
Before you start formulating your query, it's important to keep in mind that Generative AI cannot generate something entirely new. However, this is only temporary, as AI is continuously evolving at a rapid pace. At present, AI cannot generate complex or impossible queries that even humans are unable to conceive.

Therefore, it's best to choose simple and clear keywords for your query and make your formulations as understandable as possible. Imagine explaining your idea to a young child.

If you're not satisfied with the initial results, don't worry! Feel free to experiment. You can try generating the query again or edit the query itself, making it more precise and clear.

Utilize the 'in style' formula. This feature allows you to create unique textures or recognizable details and imagery.
Most importantly, don't hesitate to try different approaches and variations. There are no strict rules or set schemes here, but there is an abundance of creativity and opportunities to explore.
Unleash Your Creativity!
Generative AI can be a valuable resource for finding ideas and inspiration. While it may not fully replace a professional 3D modeler, it can guide you towards unconventional thoughts or help test a creative hypothesis. This, in turn, can save you a significant amount of time on research and sketches.
Take Small Steps Towards Greatness
Although Generative AI may not be capable of creating complex multi-model scenes, it is perfect for generating props. By using Text-to-3D, you can save time for yourself or your 3D designers by creating small details and elements.
Explore Even More Possibilities
Don't limit yourself to only using models created with Generative AI. You can combine them with models from a library or complement them with your own creations. Don't forget about incorporating music, shadows, and lighting, as every element contributes to a complete AR scene.
Keep exploring new possibilities, and we will continue to enhance our Generative AI by teaching it new patterns and approaches. Most importantly, have fun! Feel free to experiment, unleash your creativity, and enjoy the process of bringing your ideas to life with our Generative AI tool. Happy creating!

Best regards,
DEVAR (MyWebAR) Team