The Super Bowl is one of the most important events in the sports industry. But how to make it more advanced? Let's check last year's experience and see what is coming this year.

Super Bowl x Augmented Reality: last year experience

More than 100 million people were participating via AR lens at the Super Bowl, given the fact that only 22,000 were in the stadium because of Covid-19. Last year, the NFL expanded its slate of social AR tools and effects to give fans immersive, engaging, and shareable AR experiences.

Pepsi has sponsored the Super Bowl halftime show every year for the last 10 years, dropping its usual 30-second in-game ad. Pepsi featured a QR code on Super Bowl LV Halftime Show cans and packaging at retail locations nationwide, which led consumers to PepsiHalftime.com. Once there, fans could access exclusive artists and show videos, along with custom AR Instagram filters.

Last year, Verizon showcased the power of AR through the NFL Mobile app, which allowed fans both in the stadium and at home to access the "Verizon 5G SuperStadium".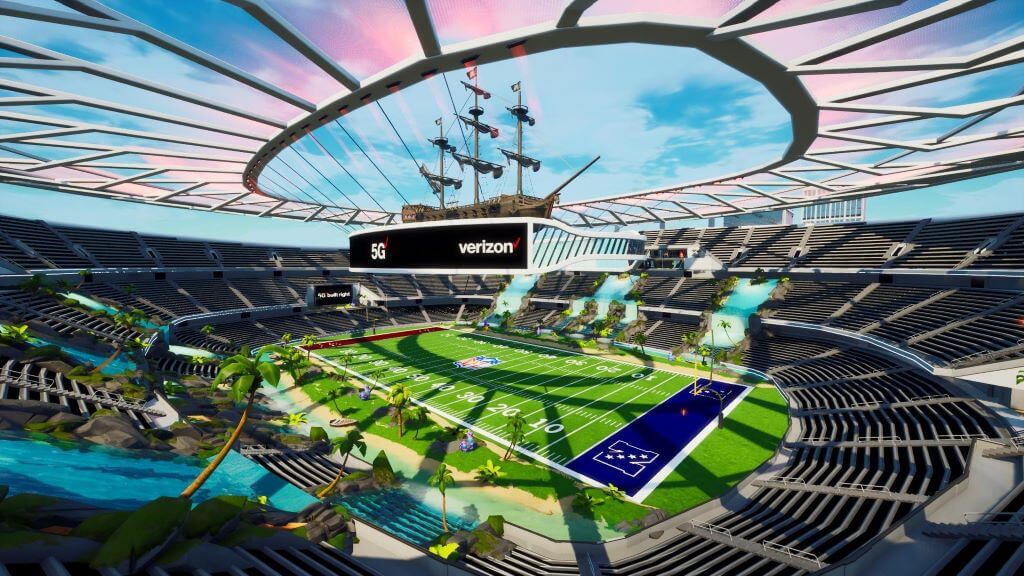 Photo: Stadium view by AR. Provided by Verizon.com

But the most fun AR graphics were used by Nickelodeon. They gave fans a unique reason to tune in on Nickelodeon and endeared younger audiences to the NFL brand. Check it!



Technological upgrades: what to expect this year

This year the Super Bowl team made huge technological upgrades: over 120 extra high-tech cameras, virtual graphics packages, and even NFTs.

2022 is the year of the Super Bowl NFTs? Definitely yes. Tickets to this year's Super Bowl in Los Angeles will come with commemorative nonfungible token (NFT) collectible versions customized with each seat number. This is an absolutely new way to connect with fans. Moreover, to commemorate the Super Bowl's previous event appearances in LA, the league will also be unveiling a unique series of seven "historic" NFTs. A new NFT will be dropped each day starting from February 6th until February 13th, 2022. The final NFT, which will be dropped on February 13th, will be designed exclusively by a local Southern California artist and will feature the current Super Bowl LVI ticket artwork.

Don't forget about AR and get your phones ready: augmented reality is set to make an appearance in many commercials this year. Brands will be using AR to advertise and provide users with a fun interactive experience all through apps.

Get back to Pepsi, the company has launched the Pepsi Super Bowl Halftime Show Ultra Pass, an augmented reality experience that places fans right there on the field watching the music unfold. Once halftime begins, fans can launch the Pepsi Halftime app and be transported right into the performance. Using augmented reality and 360-degree cameras, you can then move your phone around and it will pivot around the stage and field as if you're there.



The biggest activation in terms of physical scale will be to augment the stadium for live, in-person Super Bowl viewers. This experience will allow viewers to battle over control of a virtual airship hovering above the field. This element of the experience will only be available to viewers in the stadium with compatible devices and networks. But viewers from home also can put a camera on your TV screen and enjoy even more experiences.


Photo: Stadium view by Snapchat. Provided by Snapchat.com

Ironic that no matter how many new technological and digital upgrades are coming, the main question stays the same… Did the Simpsons predict Super Bowl 2022? Unfortunately, not this year. But that only makes the game more interesting!

2022 is a year of new dimensions and even affected Super Bowl 2022: now viewers can participate while watching the show from the stadium or sitting at home. Also, Augmented reality ads take on the new level and it remains only to wait for the show and try immersive integrations!